Thanksgiving is right around the corner! I'm so excited to be traveling home to Virginia for my Thanksgiving meal, and I plan on eating SO MUCH sweet potato casserole!
So the big question I have for you today is, are you Team Comfort or Team Dressy for Thanksgiving?
---
No secrets here! This post may contain affiliate links that provide me with a small commission at absolutely no cost to you! Thank you for supporting Biscotti and a Ph.D.!
---
Last year was my first year not having Thanksgiving with my family, and I think it was the first year I've worn actual, real clothes for Thanksgiving. My family is all about comfort and stretchy pants on Thanksgiving. In fact, we often ask if everyone has their "eatin' britches" on!
Since I'm obviously Team Comfort, I've compiled and linked up some of the comfiest pieces out there so you can revel in comfort as you stuff your face with turkey. Because who wants to be judged by a tight waistband on Thanksgiving?
All items are linked below going from the top left to right and then the bottom left to right, and most of these items come in additional colors.
Y'all are probably tired of me going on about this sweatshirt, but it really is one of my favorite pieces for fall and winter. It's so soft, I love the oversized fit (I wear a small in this), and the slits are a fun addition. This one is perfect for eating, lounging as you watch the National Dog Show (anybody else love watching that on Thanksgiving?) and Black Friday shopping!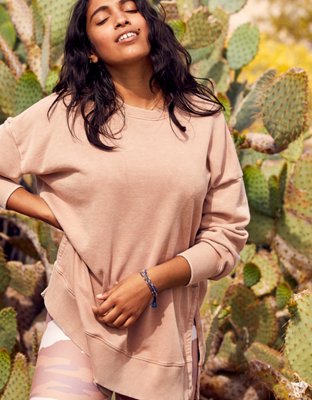 Is Sherpa ever a bad idea? If you're traveling somewhere cold, this is the perfect top to keep you warm and cozy as you feast. I love this one because it comes in solids and patterns (pink, gray, white, two buffalo plaids, and a navy Aztec print).
And…it has pockets!
If your family is anything like mine, we sometimes need a long walk or activity after eating to make us feel less full (pickleball is usually our sport of choice these days). This fleece pullover is perfect for an athletic look at lunch/dinner with an easy transition for outdoor activities after.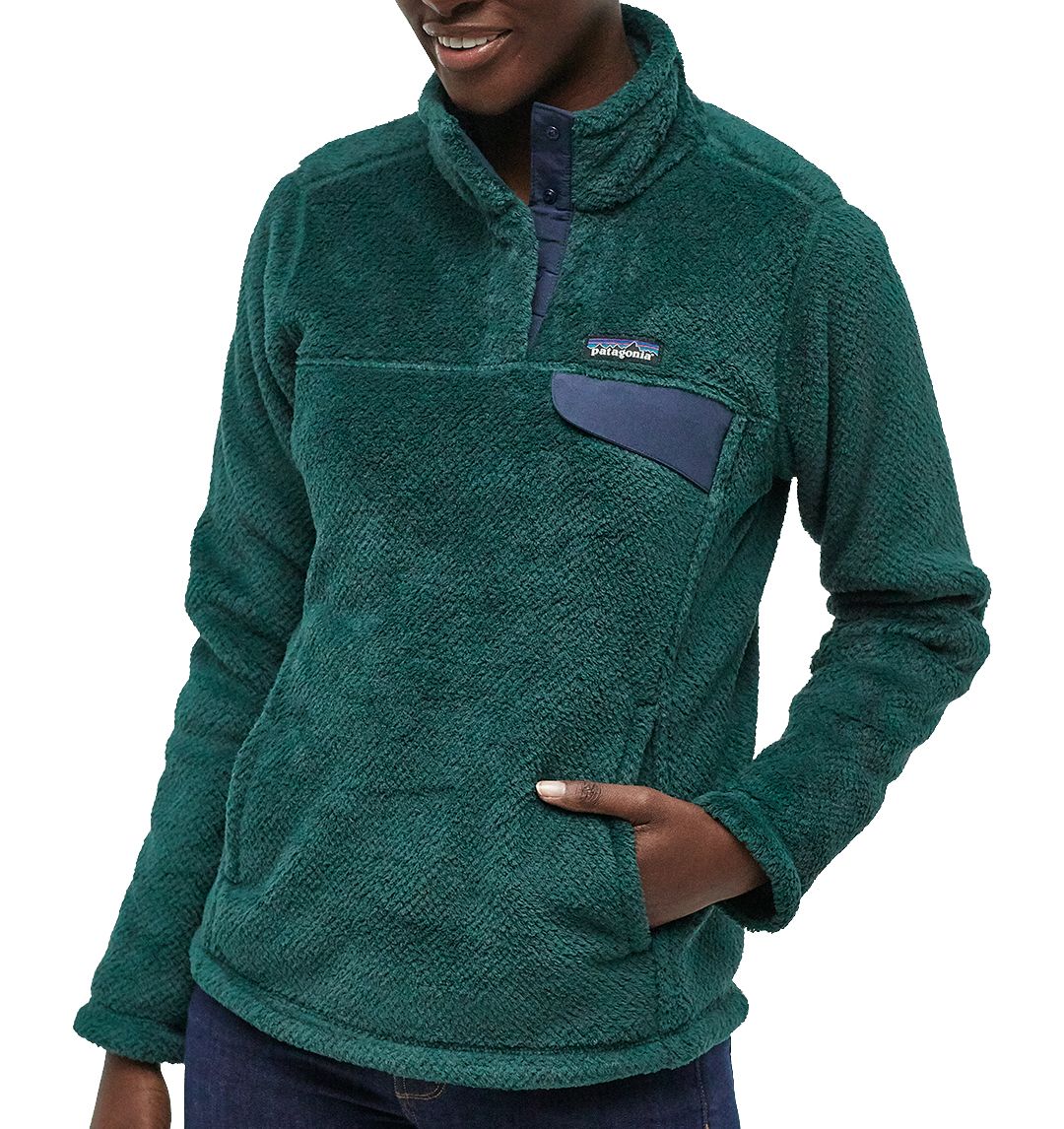 4. Teddy Bear Fleece Jacket
I've been wanting a Teddy Bear Fleece for such a long time, but they're always kind of expensive. This one has great reviews (they all say to size up) and is a reasonable price. There aren't a ton of colors, but if you're looking for a fuzzy neutral, this seems to be a great option.
Teddy Bear Fleece Jacket
Leggings were pretty much made for Thanksgiving, am I right? They're stretchy, so it doesn't feel incredibly restricting, and they're perfect for an oversized top! I'm loving these because of the leopard print – there's nothing like being comfortable AND trendy! These come in all kinds of patterns, including a cute gray herringbone. I think these would look adorable with the oversized sweatshirt in the first picture.
I'm not even sorry for putting a second sweatshirt-like item on this list 🙂 Sweatshirts and comfort go together like turkey and dressing (also, are you a stuffing or a dressing person?). Last year I wore a sweatshirt dress to Thanksgiving since we went to my husband's aunt's home and it was a great compromise between "dressing up" and being comfortable.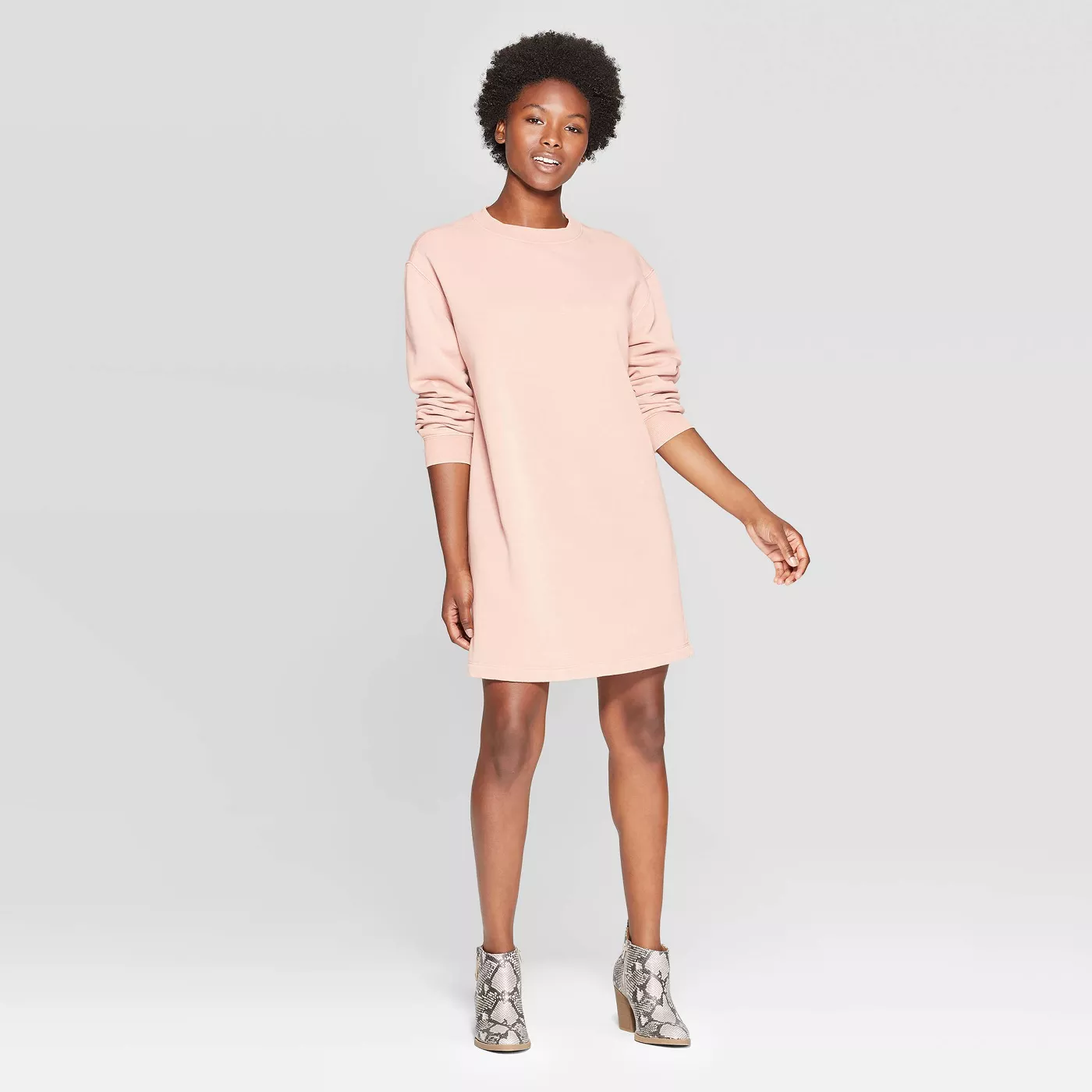 Sweatshirt
 Dress
7. Leopard Puffer Vest
I've been eyeing this vest for quite a while. I love a puffer vest for a casual look, and this leopard one is adorable and can be dressed up with jeans or leggings for Thanskgiving, and then dress it up with a dress for work! I love a piece that can be versatile.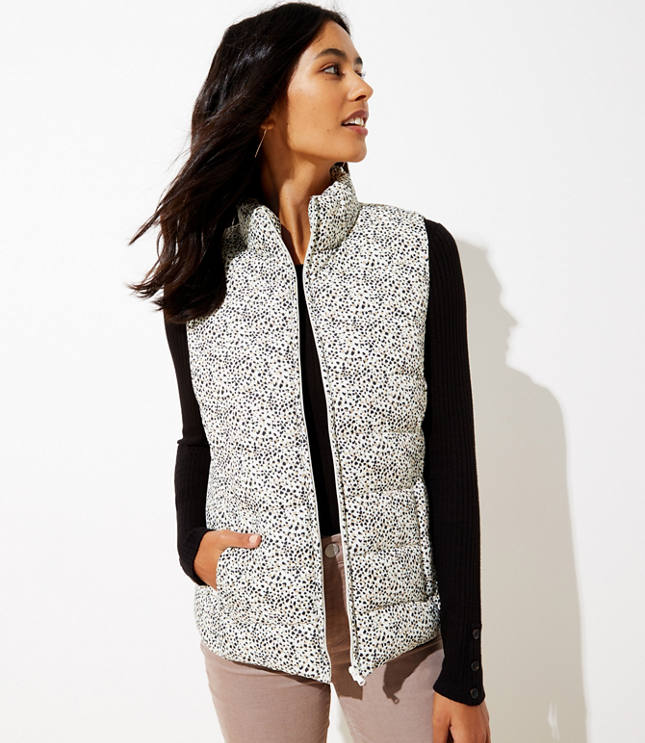 But if you're Team Dressy, don't worry, I haven't forgotten about you! I'll be posting another selection of Thanksgiving pieces for you all soon!
Let me know what your favorite items are from this list, and I'd love to hear what some of your Thanksgiving traditions or favorite foods are. Let me know in the comments!