It's finally sweatshirt season! I can finally stop sweating while I'm trying to get ready for the day! Hooray!
---
No secrets here! This post may contain affiliate links that provide me with a small commission at absolutely no cost to you! Thank you for supporting Biscotti and a Ph.D.!
---
I was starting to think that summer was never going to end and that I would die of heatstroke.
On Thursday, October 31, we hit 84 and the humidity and mugginess was unbearable. It felt like we had gone back in time to August. One of my committees had planned a Dead Author Reading, so I dressed as Dante, the Italian poet. I had to race across campus in this costume (see below) and I'm pretty sure students thought I was a cult leader.
I was the first one to read and could feel the sweat dripping down my back, which I guess was fitting since I was reading the part of The Inferno where they're descending into hell…
So that was my Halloween, but when I walked outside on Friday it was glorious! 43 degrees, which meant my makeup wasn't sweating off my face, and I was so happy that I didn't even turn the heat on in my car.
I've promised not to complain about the cold weather due to the misery of this year's heat, so we'll see in February if I'm able to follow through with that 😉
But now to the sweatshirts!
There's something about sweatshirts that make me incredibly happy. Maybe it's the coziness, or that sweatshirts = fall, or maybe it's just that you can wear whatever you want (or don't want, am I right?) under them.
Whatever it is, I'm a sucker for a good sweatshirt, and I don't think a person can own too many of them!
So here are my top five favorite fall picks for all your sweatshirty goodness!
This is my absolute favorite sweatshirt. I bought one last year from Aerie, and this year's version (pictured and linked below) is even better and softer! The leopard version that I have on has been in and out of stock so many times already, but it's currently in stock in all sizes, so hurry if you're loving this color! It also comes in a gray leopard, a camo green, and several solid colors. I'm wearing a small, but I probably could've also gotten away with an extra small because of the oversize fit.
2. Crewneck Sweatshirt
I seriously can't get enough of the oversized sweatshirts with side slits. I don't own this one (yet), but it's so soft and warm in person! It comes in several colors including the rose below, yellow, tan, cream, gold, and gray, and it also comes in plus sizes. I'm usually a medium in tops, but I'd probably size down in this one.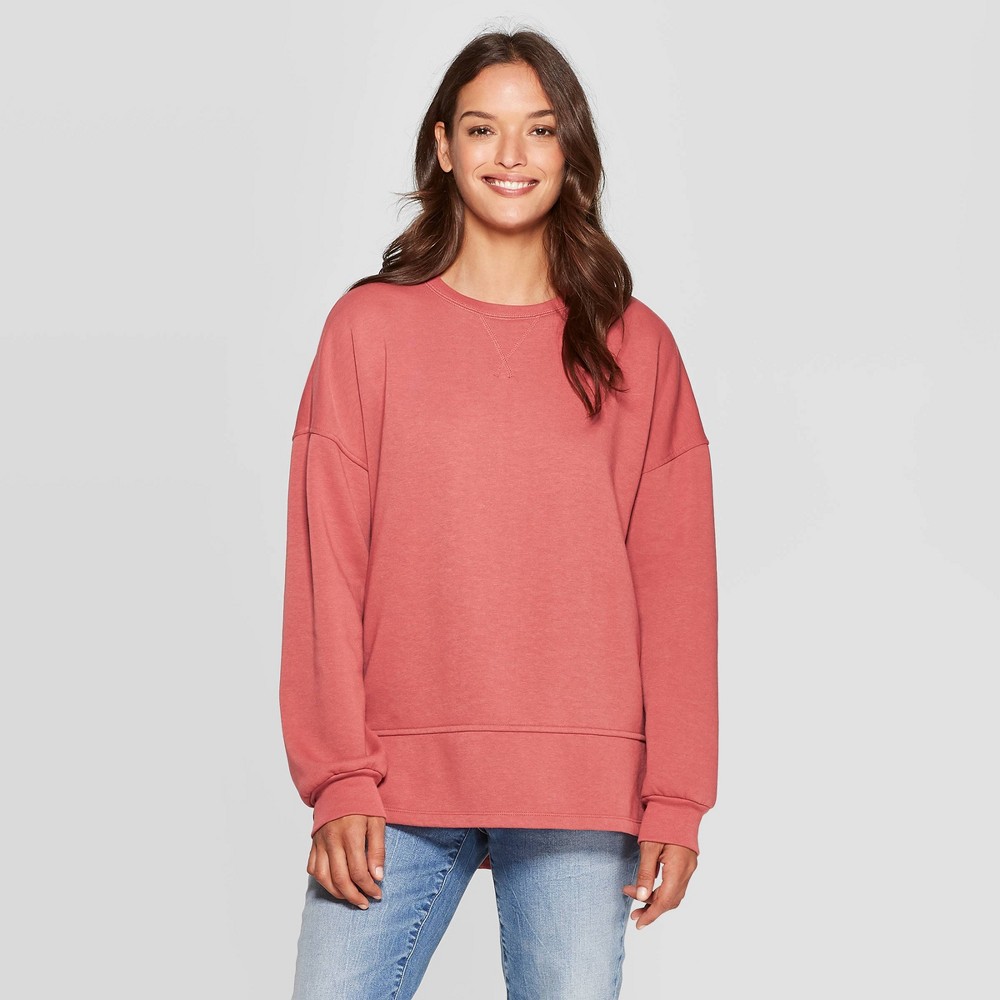 3. Lounge Sweatshirt
Although this one is in the lounge and pajama category, I think it would still look cute with a pair of jeans and could pass as a normal top. This one is probably less like a sweatshirt than the previous two, but it's still amazingly soft and comfy! Since the other two are oversized, I'd go with my normal size medium in this one (I don't like for shirts to be tight or form-fitting).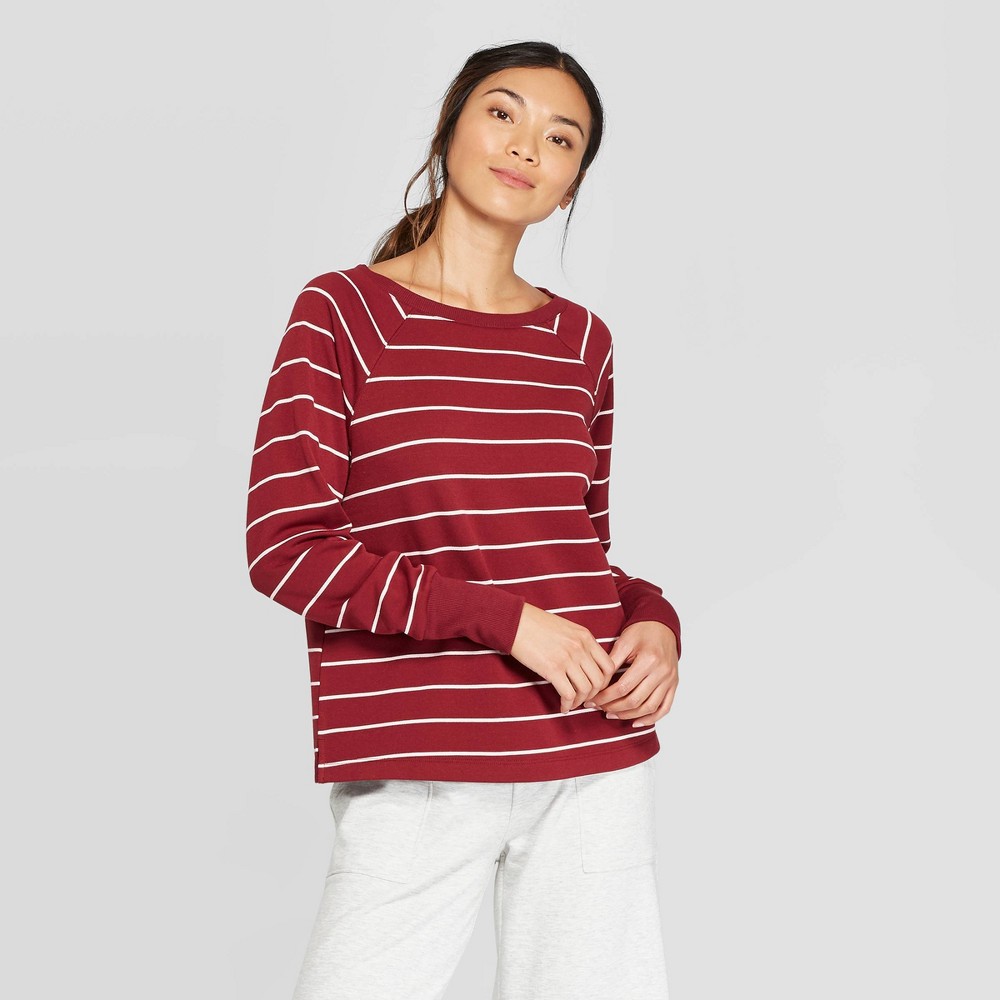 4. Relaxed Crew-Neck Sweatshirt
I'm also loving this Old Navy sweatshirt, especially in the camo pattern! I bought a similar sweatshirt from them last year in olive and pair it with jeans for a casual weekend look. I ordered a size medium, but if you want an oversized look, I'd definitely size up. If not, your regular size will likely get you the same structure and fit as in the picture below. I provided a link to the camo pattern (there's also an adorable polka dot pattern in burgundy) and to the sweatshirts that come in solid colors.
Relaxed Crew-Neck Sweatshirt | Relaxed Crew-Neck Sweatshirt in Solids
5. Sherpa Sweatshirt
Are sherpas sweatshirts? I went back and forth with this one because I feel like sweatshirts are a certain type of material and sherpas are definitely not that material. But the name of it is actually "sherpa lounge sweatshirt," so I guess it fits under the sweatshirt category. And it's so cute and cozy…how could you say no to all that fluffy goodness? This is another one that's listed under loungewear, but I've seen a ton of women wearing it with jeans and I've never once thought "omg, she's totally wearing pajamas."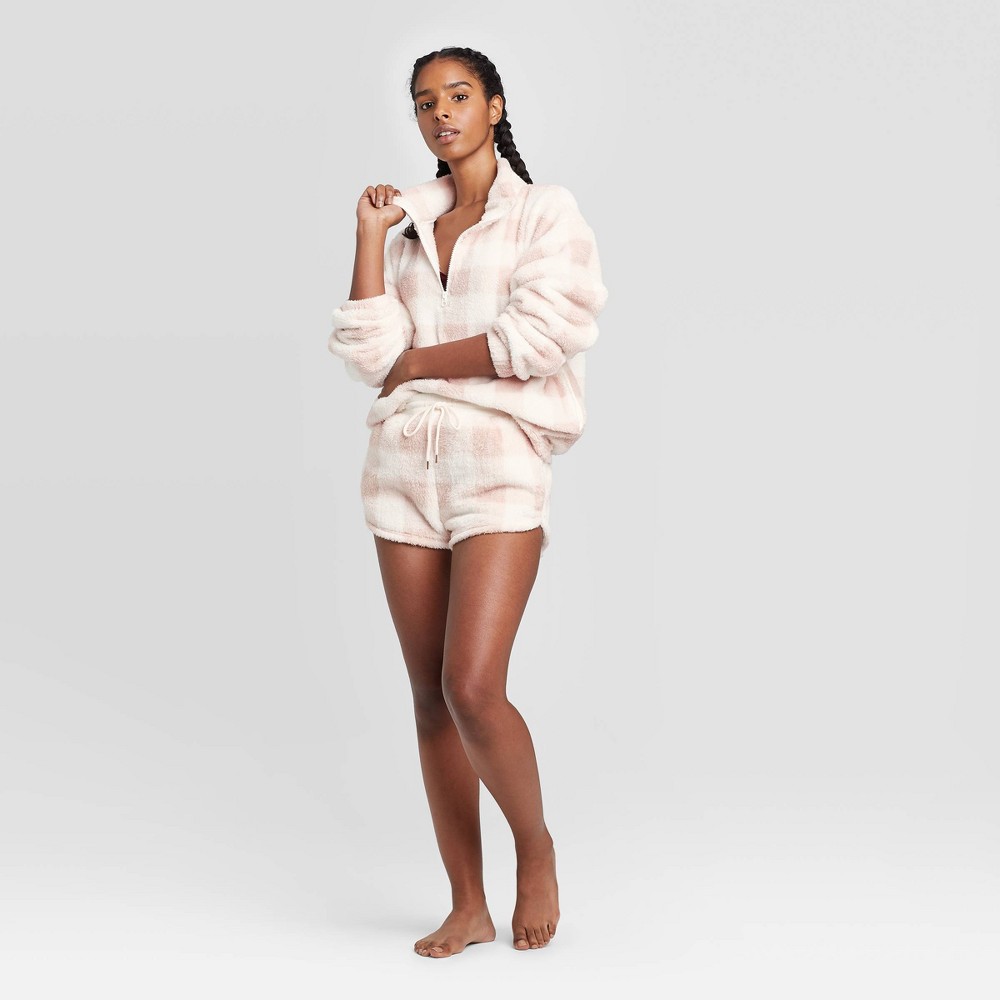 My goal for this week is to find out how I can work sweatshirts into my workwear without it being super obvious that I'm just going for comfort. I'll keep y'all updated on the Instagram if I manage to accomplish that this week 😉
Is your obsession with sweatshirts as strong as mine is? Which one is your favorite? Let me know in the comments, and have a fabulous Monday!
~Autumn~