Raise your hand if you're excited about a long weekend! Shew, same here. We just finished our third week of school, and I need a little break to catch up and engage in some self care.
---
No secrets here! This post may contain affiliate links that provide me with a small commission at absolutely no cost to you! Thanks for supporting Biscotti and a Ph.D.!
---
I know Labor Day is usually connected to sales and a day off, but I think it's also important to remember that a lot of people worked incredibly hard to make sure Americans had better working conditions and treatment (as a specialist in American literature, I'm happy to share some texts that show how awful the working conditions were in the 1800s!).
And now I'll take off my professor hat and show you some of my favorite items from LOFT that are 50% off from now until Saturday at midnight (eastern time) with code LONGWEEKEND. There are also several items that are 40% off, so be sure to browse through that section, too!
If you're looking for animal prints or floral to add to your closet, this is definitely the place! Here are the items I'm currently eyeing! Links are provided via text and images.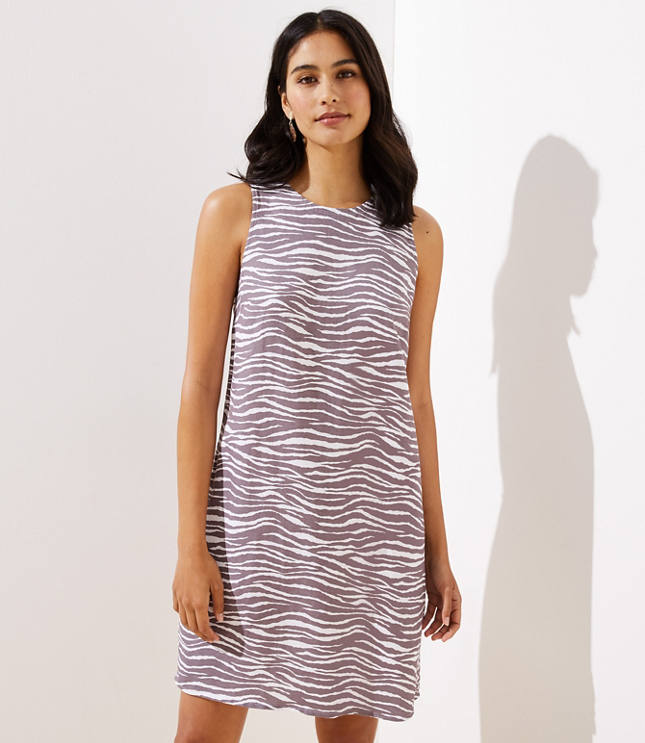 Y'all. I'm so in love with this print (and it has pockets!). And if you're not a dress lover, this same print comes in a skirt (LOFT Zebra Shift Skirt)
 and tee (LOFT Zebra Linen Tee
)! They're also available in plus and petite sizes. In plus sizes, there's also a slouchy sweater (LOFT Plus Zebra Slouchy Sweater
) and a tie-back shell (LOFT Plus Zebra Print Tie Back Shell
).
And you obviously can't talk about animal print without having some leopard! Leopard is EVERYWHERE right now, so snag some to work into your fall wardrobe! In addition to slightly obsessing over this LOFT Leopard Print Open Blazer
" target="_blank" rel="noopener">blazer, I am loving these other pieces: LOFT Leopard Print Pleated Cuff Dress
, LOFT Leopard Print Button Back Top
, and LOFT Petite Leopard Print Knit Puff Sleeve Top
.
I mean, I'm here for the floral print, but I'm staying for the drawstrings on these LOFT Garden Fluid Drawstring Pants
. Pants are always better when they give you room to stretch!
I know some people are vehemently opposed to wearing flowers, but in addition to animal prints, floral patterns are also everywhere. I'm loving the floral patterns on the LOFT Floral Pleated Tie Neck Blouse
, LOFT Floral Mixed Media Button Down Shell
, and LOFT Blossom Tie Waist Skirt
.
Ruffles AND polka dots?? Please sign me up for this LOFT Dotted Ruffle Cuff Tee
!
What fall trends are you really excited about? Are there any big sales that you're excited about shopping this weekend?
I hope everyone has a safe and relaxing holiday weekend!