The daffodils and cherry trees are blooming, which means spring is here, right? I was hoping so, but it's been one rainy and gloomy week and weekend! My parents, who live in Virginia, said it's rained so much the last week+ that people have been out of school and in landslides. I'm not sure if that's better than snow or not.
All I know is that there's one more week of school before spring break, and I AM SO READY.
During the first part of my spring break, I'm heading to a secret location for my sister's bachelorette party. I've spent so many hours planning that, so I'm really excited for the time to actually come so we can do all the (hopefully) fun stuff I have scheduled. Y'all will definitely get a post or two about our trip, but I can't give away the location in case she stumbles across this post. I try to guilt her into reading my blog, so we'll see if she actually comments or responds to this 😉
Anyway…it's time to get ready for spring break!
Even if you're not in school or a teacher, I'm sure you've got a spring trip on the brain, even if it's a weekend getaway.
When I think of spring break, I naturally think of bathing suits and beach towels. I'm really digging that one-piece bathing suits are super trendy right now – I honestly never thought I'd see the day when that was popular. Target has so many cute one-pieces right now (and they're currently doing BOGO 50% off swimsuits until March 2!). I have my eyes on this one (because ruffles!) and this one (love me some gingham!). The two in the pic below are also on my list to check out. You can click the pictures to take you directly to the links!
Weird story: I like to "try on" towels to make sure they're long and wide enough. There's nothing worse than having a towel that doesn't actually wrap around me. Since the beach is a popular spot for spring breakers, or if you're going to be hanging out in a hot tub surrounded by the mountains and the snow, two cute (and extra large!) towels can be found here and here. The one below doesn't come in extra large length, but it has a doughnut, a unicorn, and fun summer things on it, so I think I rest my case 🙂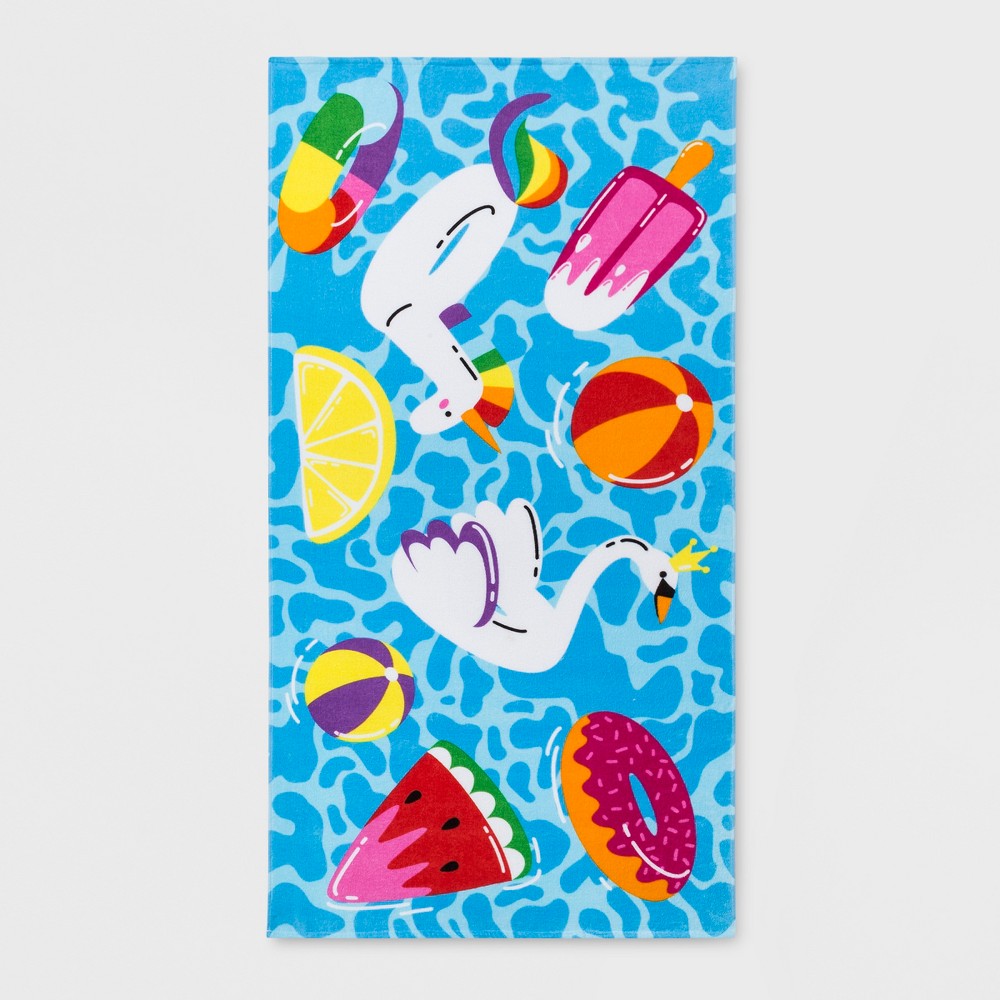 I used to just wear shorts (remember those cotton Soffe shorts?) and a t-shirt over my bathing suits, but I always ended up getting the shorts soaking wet. Cover-ups are so much easier (and cuter!). I love the v-neck pullovers because they're light and breezy. I found one last year on the clearance rack, but I'm loving the two below, also from Target! (The pictures are links and will take you directly to the item!).
You also better pack up some sunscreen and a large, floppy hat. I always end up burning my nose, so a hat is a must for me!
Now on to some items that make travel easier.
One of my absolute favorite travel items was given to me by my sister. It's a Vera Bradley Hanging Travel Organizer
, and I don't go anywhere without it. I keep most of my travel items in it all the time, which makes packing a little less time-consuming. This travel organizer has four different pockets, so you can stuff your toothbrush, toothpaste, face wash, makeup, shampoo and conditioner, razor, and everything else in it, and then fold it together for packing. I love that I can just hang it up when I get to my destination and not have to take everything out to access things! I have an older Scottie dog pattern, but I'm loving the Superbloom (the cheapest and pictured below!), Coral Floral, and Wildflower Paisley.
I also need to purchase a jewelry organizer because I feel like my poor jewelry just gets thrown into whatever pocket or pouch I can find, and then I end up having to untangle it all when I arrive at my destination and then again when I get home. I'm loving the look and reviews of the BAGSMART Travel Jewellery Organiser
. It has two bands for rings, a place for earrings, necklace buckle straps, zip pouches, and you can hang it up!
I'm also in the market for a new beach bag. The one I have right now has seen better days and it's just too hard to make everything fit. The first one pictured below is at the top of my list because it's roomy enough for a towel and has a separate storage section on the bottom (and it's coral, which is the Pantone Color of the Year!). The second one pictured caught my eye because of the size and the price (only $8!). Again, both pics are links to the products!
Do you have any fun spring break plans or spring/summer trips coming up that you're excited about? What are your favorite items to take with you? Let me know in the comments!
And have a great week!
---
No secrets here! This post may contain affiliate link that provide a small commission for purchases made through this site (at no cost to you!). Thanks so much for supporting Biscotti and a Ph.D., y'all!